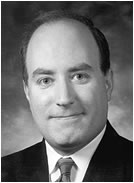 Howard J. Bashman is a nationally-known appellate lawyer who appears regularly before the U.S. Court of Appeals for the Third Circuit and Pennsylvania's state appellate courts. In 2003, American Lawyer Media named Bashman one of Pennsylvania's top 40 lawyers under age 40 on the strength of his appellate litigation practice.
In 2003, Senior Third Circuit Judge Ruggero J. Aldisert published a newly-revised edition of his highly acclaimed book "Winning on Appeal." Bashman is one of just a few nationally-recognized appellate lawyers who, along with many federal and state court appellate judges, provide advice in the book on how to achieve excellence in appellate brief-writing and oral argument.
Bashman was born and raised in Philadelphia, Pennsylvania, where he attended the William Penn Charter School from kindergarten through twelfth grade. He then attended undergraduate school at Columbia College in the City of New York, where he was named a John Jay National Scholar and won the George William Curtis Prize in Oratory. In 1989, he received his Juris Doctor degree with distinction from the Emory University School of Law, where he served as Managing Editor of the Emory Law Journal and received the Emory University School of Law Merit Scholarship.
Following law school, Bashman had a two-year clerkship for Judge William D. Hutchinson of the U.S. Court of Appeals for the Third Circuit. Thereafter, Bashman joined the law firm of Montgomery, McCracken, Walker & Rhoads as an associate in the litigation department, where he focused on the practice of appellate litigation. While at Montgomery, McCracken, Bashman briefed and argued numerous appeals in the Third Circuit and the state appellate courts of Pennsylvania. He also wrote the merits briefs for one of the firm's corporate clients in an important case pending before the U.S. Supreme Court, and the Supreme Court ruled in favor of that client by a 7-2 vote. Bashman later became one of the youngest lawyers promoted to partner at Montgomery, McCracken in recent memory and chaired its appellate litigation section.
In March 2001, Bashman and four other litigation partners at Montgomery, McCracken left that firm to anchor the litigation section in Buchanan Ingersoll's Philadelphia office. Bashman joined Buchanan Ingersoll as a shareholder and was named chair of its Appellate Group. While at Buchanan Ingersoll, Bashman continued to brief and argue numerous appeals before the Third Circuit and Pennsylvania's state appellate courts.
In addition to engaging in the practice of appellate litigation, Bashman also writes about appellate issues and engages in related bar association activities. Since December 2000, Bashman has written a monthly column on appellate developments for The Legal Intelligencer, Philadelphia's daily newspaper for lawyers. In January 2001, Bashman began serving as co-chair of the Appellate Courts Committee of the Philadelphia Bar Association. Bashman also serves as contributing editor for Legal Affairs magazine, which hosts his popular appellate-related Web log, "How Appealing."
Cases in which Bashman's appellate clients have prevailed in the Third Circuit have repeatedly made The Legal Intelligencer's year-end recaps of significant rulings. In addition, the Third Circuit has appointed Bashman to handle on appeal many important and complex pro bono matters.
Within the past few years, Bashman has been profiled by The Associated Press, The ABA Journal, Legal Times of Washington D.C., and The Daily Journal, a California-based legal newspaper. As an appellate commentator, he has been quoted or favorably mentioned by The New York Times, The Boston Globe, The Detroit News, The Seattle Times, Wired News, Salon, and Reuters. And he has recently published essays about appellate issues in The Los Angeles Times and online at Slate.
Bashman is admitted to practice law in Pennsylvania, New Jersey, the Supreme Court of the United States, and the United States Courts of Appeals for the First, Third, Fourth, Fifth, Ninth, Eleventh, District of Columbia, and Federal Circuits.